There are many premium optin plugins out there that provide excellent optin forms to help you grow your subscribers list. Most of them, however, aren't very affordable for beginner bloggers.
You could totally use a free optin plugin to collect subscribers but usually they come with basic designs that don't draw much attention and also have a limited selection of features. If you want to get serious about growing your mailing list, you need to invest in a plugin that will help you effectively convert your readers into subscribers.
Let's take a look at two of the most popular premium optin plugins:
This plugin is currently being used by 600,000+ websites and lets you create beautiful optin forms to help you convert.
The basic plan costs $9/month and only includes popup forms. The Plus plan costs $19/month and it includes popup forms, sidebar widgets, floating bars, inline forms, and content locking forms. That's $108 for the basic plan and $228 for the plus plan per year.
Ouch.
Here's another plugin:
Sumo is also a very popular plugin that is powering almost 700,000 websites.
The professional plan costs a whopping $30/month and only lets you convert up to 750 people to subscribers. They let you save 20% if you pay annually but that's still $24/month which works out to be $288 per year.
That's a lot of money, considering when I first started blogging, I barely wanted to pay $10 a month for web hosting.
Luckily, today I'm going to let you in on an affordable optin plugin that I use on this blog and recommend for you to use on yours as well:
This premium optin plugin only costs $39/year for their personal license which includes beautiful popup forms, sidebar widgets, optin bars, inline forms, two-step optins, and comment optins.
Wait a minute… all those features for just $39?
Yep! And that's because FatCat Apps focuses on developing affordable products that work well. Some of their users even noticed a boost in mailing list conversions of up to 500%.
To make sense of a few of the form features mentioned above:
Two-step Optin Forms are popups that only show after your visitors click on a hyperlink. You can place them on links to free downloadable products and have your readers subscribe to access them. See GIF below: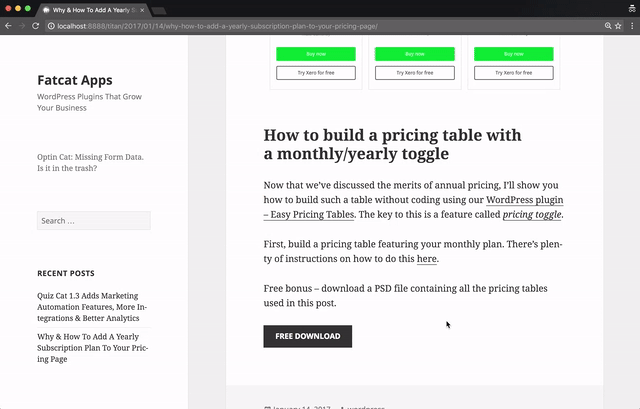 Comment optins add a way to convert commenters into subscribers by adding a checkbox underneath your comment forms. This optin method is a super high conversion method since people who usually comment on your blog are already interested in your content, so they're more likely to want to subscribe.
Optin Bars are bars that go right at the top of your website and allow your readers to enter their emails to subscribe to your mailing list. This bar will be visible until your readers close it off with the x button.
Visit the link below to purchase the plugin and begin saving a ton of money and also grow your email list!
Plugin | Optin Cat by FatCat Apps
Let me know what you think of this plugin in the comments and don't forget to pin the image at the top to Pinterest.