If you've stumbled onto this page, you're probably looking to start a blog. Luckily for you, this guide will show you exactly how to become the blogger you aspire to be.
We've helped thousands of people like you start their blogging journeys and make money online!
Please note that this is not a tutorial for starting a free blog. We don't recommend creating free blogs because they come with many limitations that make it very difficult for you to make money blogging + they'll cost you more money in the long run. To learn more, read 4 reasons why you should go self-hosted blogging instead of free.
Instead, we've included 6 in-depth steps in this tutorial to show you how to create a self-hosted WordPress blog in just 20 minutes. You will get 60% off web hosting and have the potential to earn hundreds or even thousands in your first year of blogging.
Not sure you're ready to invest in a self-hosted blog yet? Here are 7 reasons why you should start a blog today and some FAQs about blogging.
How to Start a Blog in 20 minutes
To start a blog, you just need to follow these 6 simple steps in order:
Choose your blog niche
Sign up with a web hosting service + register a domain name
Install WordPress
Create your About and Contact pages
Create blog categories
Write your first blog post
After you've started your blog, you can check out our resources on how to grow your blog traffic and make money online.
Let's move on to the first step – choosing your blog niche! You can skip this step if you've already decided what you want to blog about.
Step 1. Choose your blog niche
Choosing a blog niche is one of the hardest decisions you'll have to make before starting your blog.
If you choose one that you're passionate about from the start, you'll be constantly motivated to write new content and it'll make it so much easier to turn your blog into a successful online business.
If you don't already have a blog niche, check out our list of 100+ blog niches, and learn how to choose the right one.
---
Step 2. Sign up with a web hosting service + register a domain name
Now you'll have to sign up with a web hosting service and register a domain name.
The web host we recommend for brand new bloggers is Hostgator because it's costs only a few bucks a month and it gives you a free domain name for a year! Most other web hosts are more expensive.
**Affiliate Disclaimer: Aspiring Bloggers is partnered with HostGator which means if you click on the link below and make a purchase, we earn a commission at no extra cost to you. This helps us to continue providing free content to our readers. And don't worry! We only recommend products we use/have used ourselves.**
Get Hostgator for just $2.75 per month! (60% discount!)
Then, select the Hatchling Plan. It's the only one you'll need as a beginner blogger.
On the next screen, it'll ask you to choose a domain name. This will be the URL of your website (ie. www.aspiringbloggers.com).
Your domain name should be similar, if not the same as the name of your blog. Naming your blog can be quite difficult so it's good to spend some time thinking about it. Brainstorm a list of ideas and choose the name you think will best suit your blog.
It's also a good idea to use a popular keyword in your blog so that when people search for the keyword, your website will show up. Right now this site shows up in the number one spot when you type "Aspiring Bloggers" in Google! Need more help?
Need more help? Read our guide on how to come up with a blog name.
When you're ready, simply type in the domain name you want and Hostgator will check whether or not it's available. In many cases, the domain you want might already be registered by someone else. If that's the case, try to play around with the words until you find one that's available.
Once you've chosen a domain name, scroll down to the Choose a Hosting Plan section.
Here, you will he Hatchling package, select your billing cycle, and create a username and security PIN for your account.
If you plan to take blogging seriously, I recommend purchasing a 36-month subscription to get the best value for your money. But feel free to choose your own billing cycle and how much you want to spend.
Next, fill out your billing info.
You can uncheck everything in the Add Additional Services section since you won't need it.
Review your total, and click Checkout Now! at the bottom when you're ready!
Once Hostgator finishes setting up your account, check your email for your new account details.
You can log in at https://portal.hostgator.com/login/ to start setting up your blog.
---
Step 3. Install WordPress
When you're logged into Hostgator, click on the orange Launch cPanel button.
Then, click on WordPress Installer.
Select the domain you chose earlier and click Next.
Next, add your blog name and then fill out the rest of the details for your WordPress site. Leave Automatically create a new database for this installation checked.
Click Install when you're ready.
Now you can log into your new website by clicking Login!
Keep in mind that you can also log into your website from now on by going to yourdomain.com/wp-admin, replacing "yourdomain" with the domain you purchased earlier.
Enter your login information, and click Log In.
Welcome to WordPress!
Now that you've installed WordPress, you want to install a theme to make your blog look exactly the way you want.
WordPress provides all sorts of free themes for you to use.
To access all of the free themes that come available with WordPress, in your WordPress dashboard, go to Appearance > Themes located on the left side of your admin panel.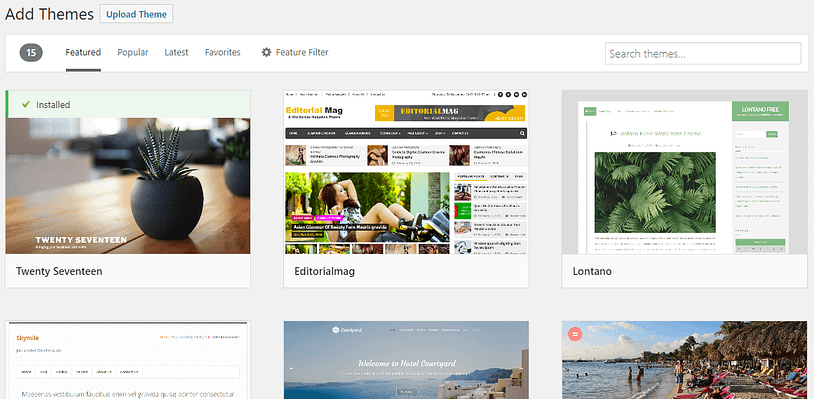 Click on the Add New button at the top and then browse until you find the theme you want to be installed on your blog. You can hover over a theme and click "Preview" to see a live example.
When you find one you like, click "Install" and then activate the theme. Don't worry, you can switch your theme as many times as you'd like later on.
Step 4. Create your About and Contact pages
To help your readers learn more about you or contact you if they need anything, you should always have an About page and a Contact page.
How to create a new page
To create a page, go to Pages > Add New.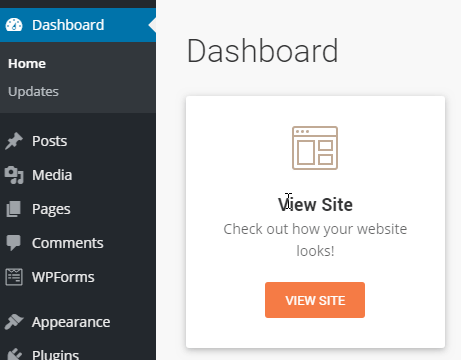 Then, add a title and a body. You can see how the page looks on your site, you can click "Preview" on the right.
When you're happy with the page content, click "Publish."
Don't worry about the design yet! We'll show you how to make your pages look great in another lesson.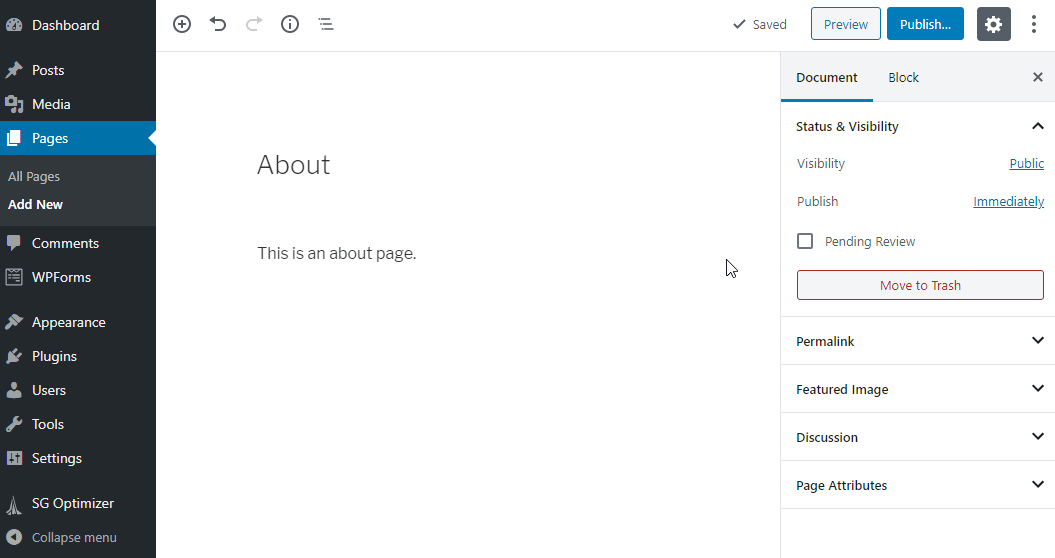 The About page should include information about you (if you're an individual blogger) or your company (if it's a blog for your business). If you're not sure what to write, check out what other people wrote on their websites. You should be able to find a nice structure to use as an example for your own About page.
For your contact form, we recommend installing a plugin called "WP Forms Lite." This plugin takes away all of the work by letting you create a beautiful contact form that you can put anywhere on your site via a shortcode it provides. Once you get the shortcode, paste it directly into a new page and your contact form will show up. It'll look something like this form:
5. Create Blog categories
Every blog should have a few categories (topics). The categories are up to you! Take some time to figure out what you're interested in writing about and what you think your target audience will find valuable. Also, make sure it's related to your niche!
For reference, our blog has 4 categories which include:
Blogging Tips & Tutorials
Monetization Tips & Strategies
Marketing & SEO
WordPress Guides
How to create new categories
You can create categories by going to Posts > Categories.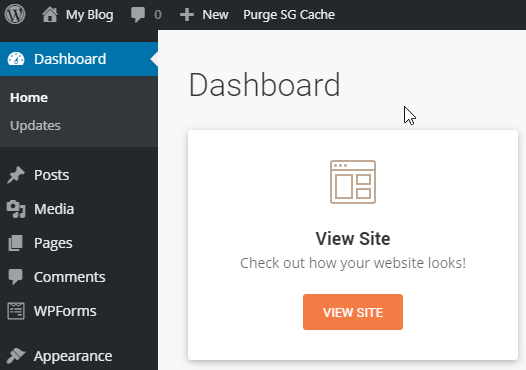 You only need to fill out the Name field, everything else is optional. When you're done, click Add New Category.
Your categories will appear in the table on the right.
How to add pages and categories to your menus
It's easy to customize your menu. You can add pages, posts, custom links or categories to your menus by going to Appearance > Menu.
First, select the items you want to add from the Add menu items list, and then click the Add to Menu button. When you're happy with your menu, click Save Menu.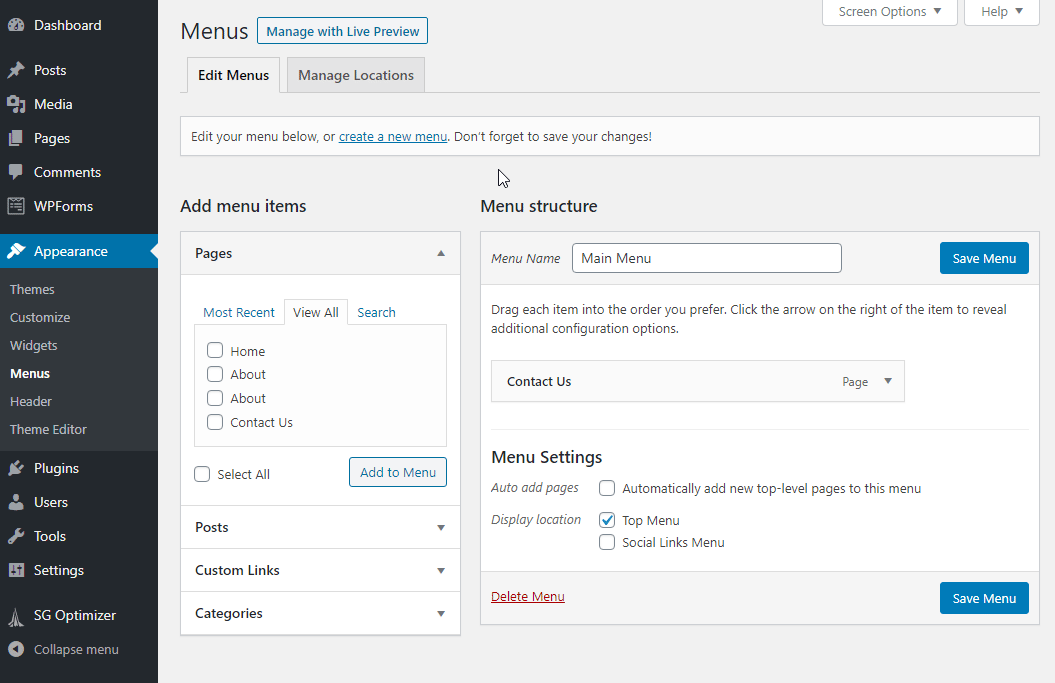 Some themes will allow you to add a menu at the bottom of your site as well. If that's the case, you'll have an option to choose which menu you are editing from a drop-down list underneath the Edit Menus tab.
How to reorganize your menu
To reorganize items on your menu, simply hover over a menu item and drag and drop it in place.
If you drag a menu item below another and move it slight to the right, it will become a sub-menu item. You can even create sub-menus under sub-menus. Try it!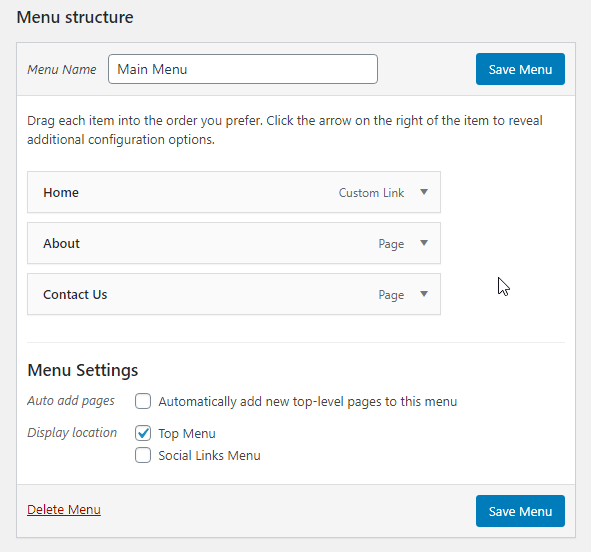 How to remove menu items
To remove a menu item, click on the arrow to the far right and click Remove.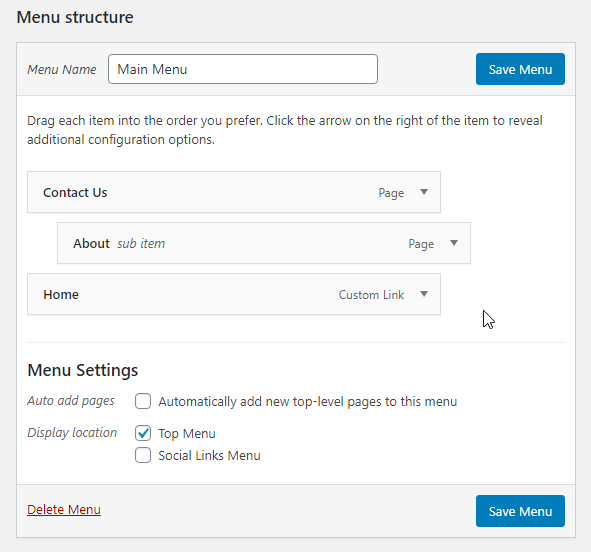 It's that easy to add and remove pages from your menu!
---
Step 6. Write your first blog post
Now that you've officially finished setting up your self-hosted WordPress blog, it's time to publish your very first blog article! Such exciting stuff.
Articles are essential for making money on your blog. Eventually, some of your articles will be promoting your products, services, or affiliate programs.
Write as many quality articles as you can because you want to start ranking for keywords on Google and help others find your blog. No content = no readers = no profit.
How to create a blog post
From your WordPress Dashboard, go to Posts > Add New from the left menu.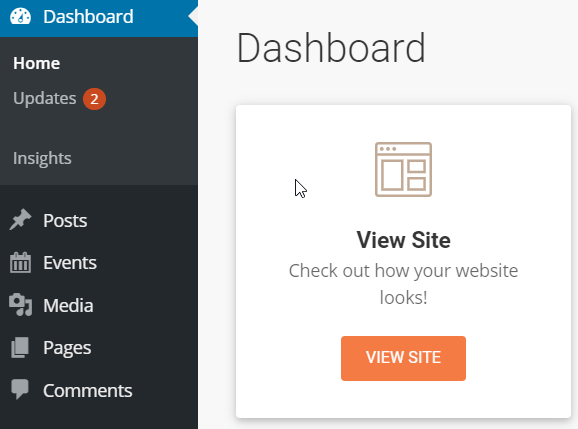 Then, add a title for your blog post. Remember, attractive titles will attract more clicks from your audience! Don't choose a title that you wouldn't be interested in clicking on yourself.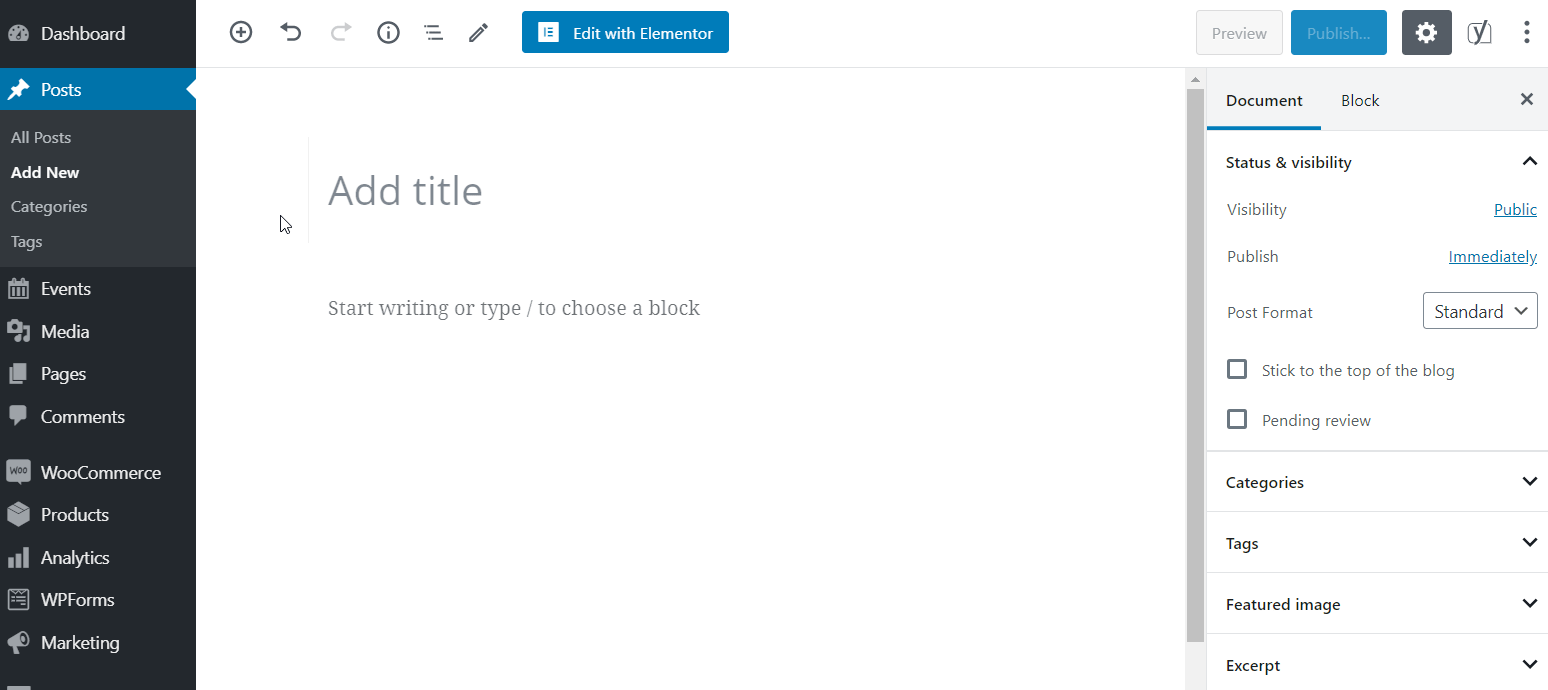 Here are some more tips on how to write blog posts your readers will love!
Congrats!! You've officially started a blog now. Visit our blog to learn more tips on how to turn your blog into a success!