If you've stumbled onto this page, you're probably trying to learn how to start a blog and make money online.
Well, you've come to the right place!
Our guide has helped several individuals like you start a profitable blog and earn hundreds or even thousands of dollars within their first year of blogging. Best of all, it'll only cost you a few bucks per month and approximately 30 minutes of your time started.
In this guide, we'll walk you through 6 in-depth steps so that you can start your blogging business today.
Not sure you're ready to start a blogging business yet? Here are 7 reasons why you should start a blog today and some FAQs about blogging.
**Affiliate Disclaimer: Some links in this article may be affiliate links, which means if you click on the link and make a purchase, we earn a commission at no extra cost to you. This helps us continue to produce free content on aspiringbloggers.com.**
How to Start a Blog and Make Money
To start a blog and make money, follow these steps in order:
Choose your blog niche and name
Create your website
Write blog articles
Increase your website traffic
Make money from your blog
Now that you're excited, let's move on to the first step – choosing your blog niche! You can skip this step if you've already decided what you want to blog about.
Step 1. Choose Your Blog Niche and Name
Choose your blog niche
Choosing a blog niche is one of the hardest decisions you'll have to make before starting your blog. A blog niche is essentially the overall topic of your blog. Targeting a specific niche will help you build a specific audience for your blog, and eventually customers.
Some typical niches are lifestyle, food, fashion, and technology. If you want to make money with a fashion blog, for example, you may eventually partner with one of your favorite brands and earn a commission by referring your readers to the brand's online store.
Be sure to choose a niche that you enjoy writing about. If you choose a blog niche that you're passionate about from the start, you'll be constantly motivated to write new content and it'll make it so much easier to turn your blog into a successful online business.
If you haven't already decided on your blog niche, our list of 100+ blog niches will help you choose the right one.
Choose your blog name
Naming your blog can be quite difficult so it's good to spend some time thinking about it. Brainstorm a list of ideas and choose the name you think will best suit your blog.
It's also a good idea to use a popular keyword in your blog so that when people search for the keyword, your website will show up. Right now this site shows up in the number one spot when you type "Aspiring Bloggers" in Google! Need more help?
Need more help? Read our guide on how to come up with a blog name.
Step 2. Create Your Website
Now, it's time to start setting up your website. This is the exciting part! Follow the steps below to launch your website.
Choose a Domain name + Get Web Hosting
To create your website, you'll first need to sign up for web hosting and a domain name. A web host is a service that will host all of your website's content. After all, your website has to be stored somewhere!
Click with our 86% discount, you can get your first year of blogging for just $1.99/mo and domain name for $17.99. Click on the link below to get started.
Scroll down and choose the "Startup" plan. That's all you'll need as a beginner blogger.
On the next screen, it'll ask you to choose a domain name.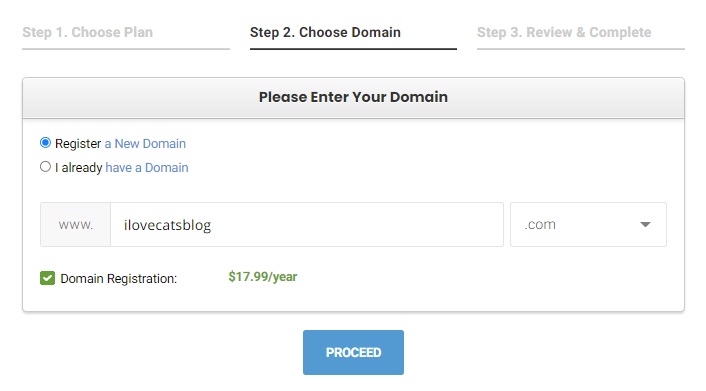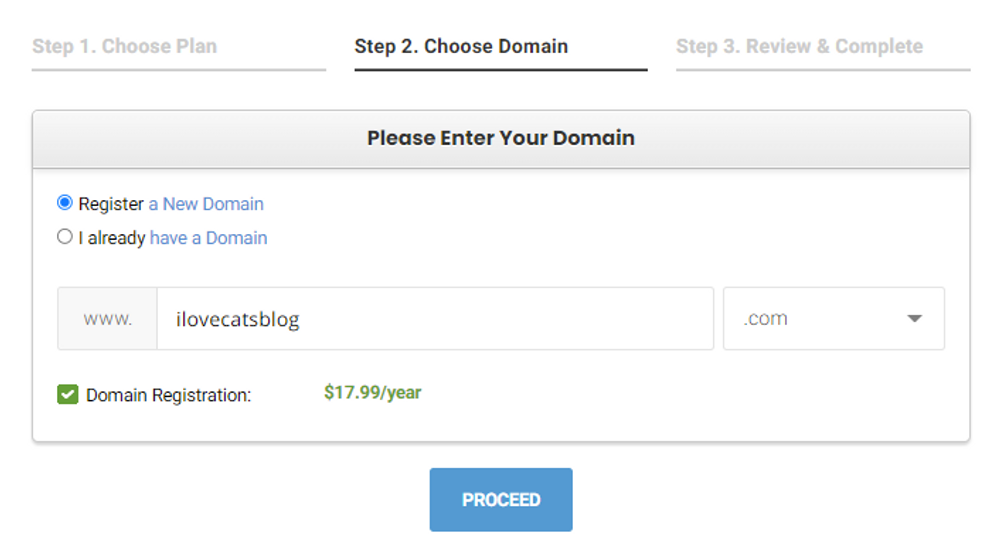 Your domain name should be similar, if not the same as the name of your blog.
When you're ready, simply type in the domain name you want and Siteground will check whether or not it's available. In many cases, the domain you want might already be registered by someone else. If that's the case, try to play around with the words until you find one that's available.
Once you've chosen a domain name, click PROCEED.
You'll then be taken to the final screen where you can fill out your personal + billing information and complete the checkout process.
For the period, choose 12 months to claim the 86% discount.
The "Domain Privacy" and "SG Site Scanner" options are optional. You don't need them to begin your blog.
After you review everything, click PAY NOW.
If the checkout is completed successfully, you should now have web hosting and your new domain name! Congrats!
In the next lesson, we'll show you how to install WordPress onto your blog.
---
Install WordPress
Log into your Siteground Client Area by visiting my.siteground.com. Then go to Websites in the top menu.
Next, click the New Website button in the top right corner.
Select the Existing Domain option and then choose your domain name in the dropdown that appears. Click Continue.
Select Start New Website.
Select WordPress.
Enter the login credentials you wish to use to log into your website. Then click Continue.
And that's it! You've just created your WordPress website.
You can log into your website from now on by going to yourdomain.com/wp-admin, replacing "yourdomain" with the domain you purchased earlier.
Enter your login information, and click Log In.
Welcome to WordPress!
Now that you've installed WordPress, you want to install a theme to make your blog look exactly the way you want.
WordPress provides all sorts of free themes for you to use.
To access all of the free themes that come available with WordPress, in your WordPress dashboard, go to Appearance > Themes located on the left side of your admin panel.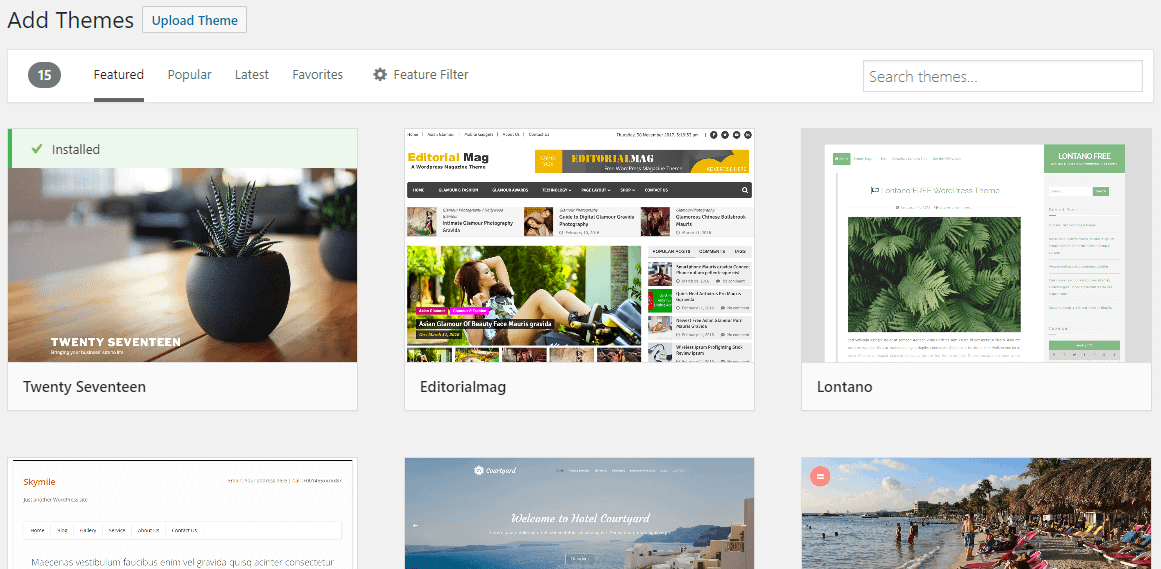 Click on the Add New button at the top and then browse until you find the theme you want to be installed on your blog. You can hover over a theme and click "Preview" to see a live example.
When you find one you like, click "Install" and then activate the theme. Don't worry, you can switch your theme as many times as you'd like later on.
Create Your About and Contact pages
To help your readers learn more about you or contact you if they need anything, you should always have an About page and a Contact page.
How to create a new page
To create a page, go to Pages > Add New.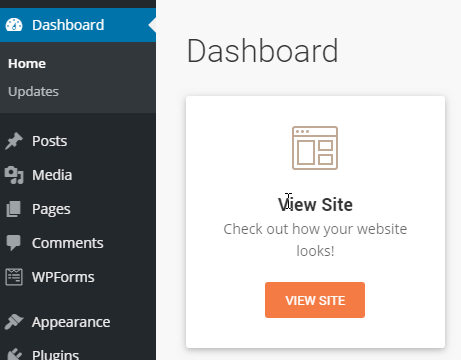 Then, add a title and a body. You can see how the page looks on your site, you can click "Preview" on the right.
When you're happy with the page content, click "Publish."
Don't worry about the design yet! We'll show you how to make your pages look great in another lesson.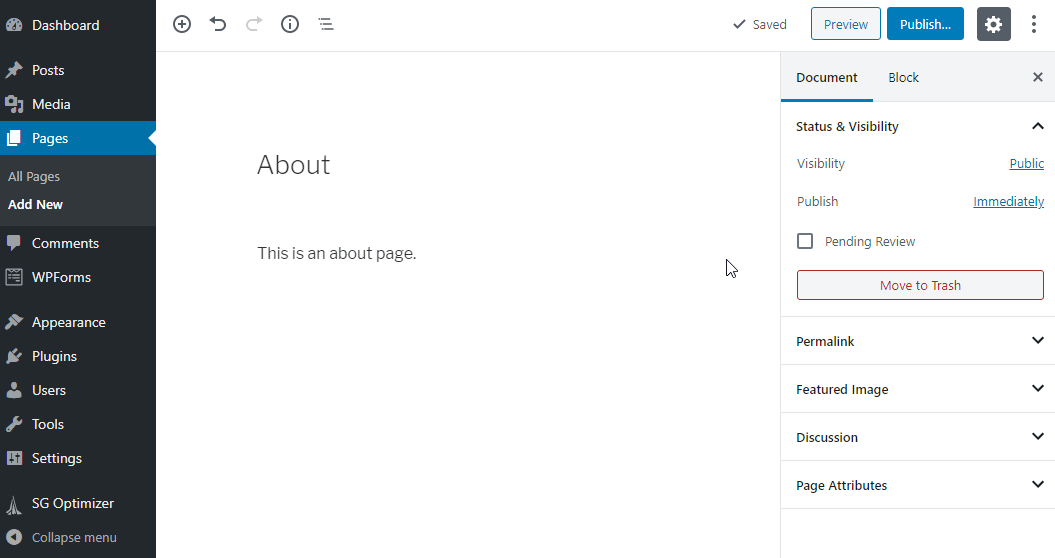 The About page should include information about you (if you're an individual blogger) or your company (if it's a blog for your business). If you're not sure what to write, check out what other people wrote on their websites. You should be able to find a nice structure to use as an example for your own About page.
For your contact form, we recommend installing a plugin called "WP Forms Lite." This plugin takes away all of the work by letting you create a beautiful contact form that you can put anywhere on your site via a shortcode it provides. Once you get the shortcode, paste it directly into a new page and your contact form will show up. It'll look something like this form:
Create Blog Categories
Every blog should have a few categories (topics). The categories are up to you! Take some time to figure out what you're interested in writing about and what you think your target audience will find valuable. Also, make sure it's related to your niche!
For reference, our blog has 4 categories which include:
Blogging Tips & Tutorials
Monetization Tips & Strategies
Marketing & SEO
WordPress Guides
How to create new categories
You can create categories by going to Posts > Categories.
You only need to fill out the Name field, everything else is optional. When you're done, click Add New Category.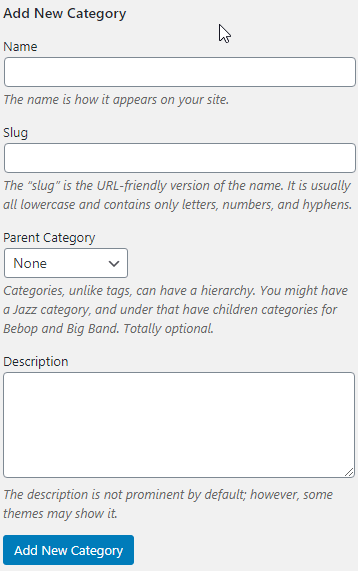 Your categories will appear in the table on the right.
How to add pages and categories to your menus
It's easy to customize your menu. You can add pages, posts, custom links or categories to your menus by going to Appearance > Menu.
First, select the items you want to add from the Add menu items list, and then click the Add to Menu button. When you're happy with your menu, click Save Menu.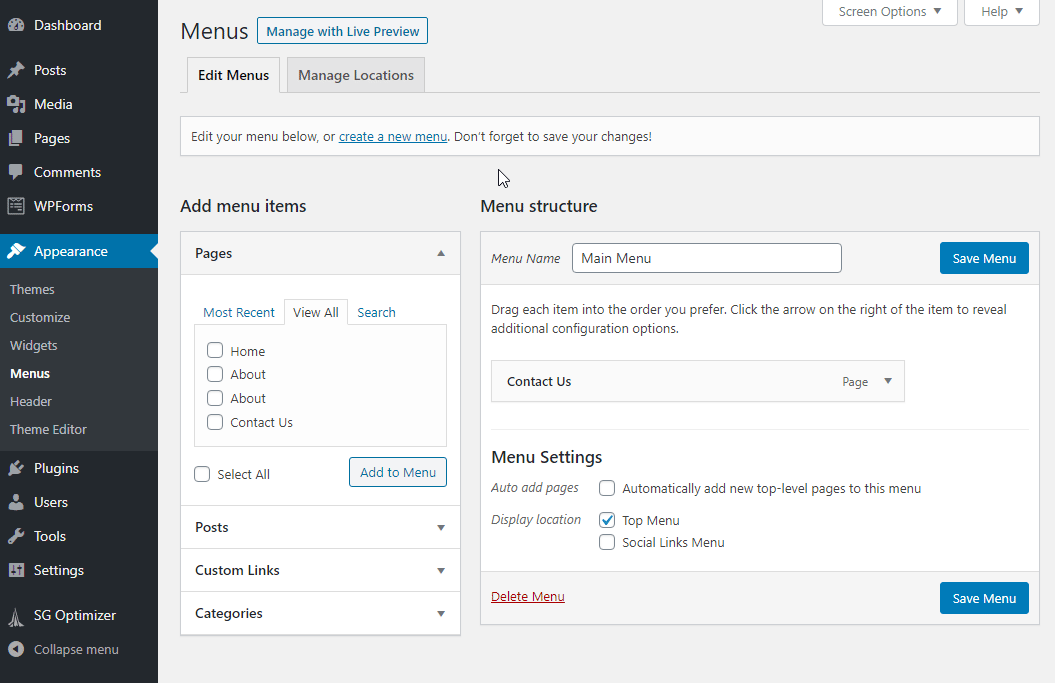 Some themes will allow you to add a menu at the bottom of your site as well. If that's the case, you'll have an option to choose which menu you are editing from a drop-down list underneath the Edit Menus tab.
How to reorganize your menu
To reorganize items on your menu, simply hover over a menu item and drag and drop it in place.
If you drag a menu item below another and move it slight to the right, it will become a sub-menu item. You can even create sub-menus under sub-menus. Try it!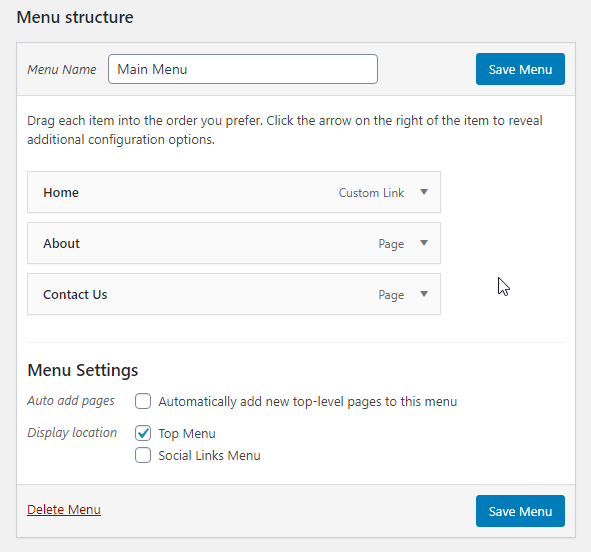 How to remove menu items
To remove a menu item, click on the arrow to the far right and click Remove.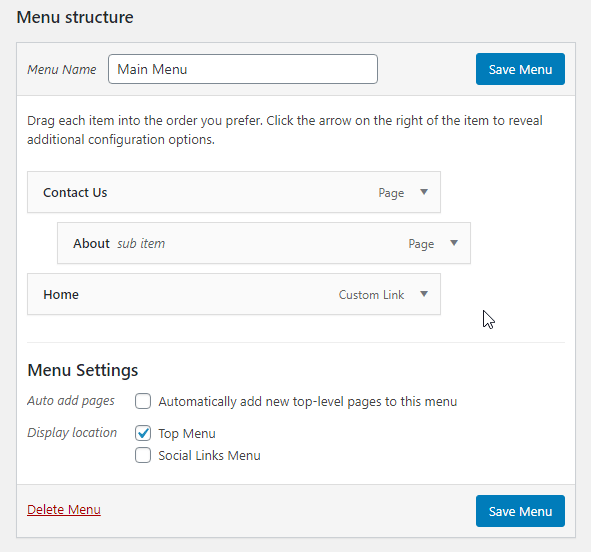 It's that easy to add and remove pages from your menu!
Step 3. Write Blog Articles
Now that you've officially finished setting up your self-hosted WordPress blog, it's time to start writing blog articles!
Articles are essential for making money on your blog. If you write the right content, you will get a lot of traffic to your blog. Eventually, these articles will help you make money online.
How to create blog posts
From your WordPress Dashboard, go to Posts > Add New from the left menu.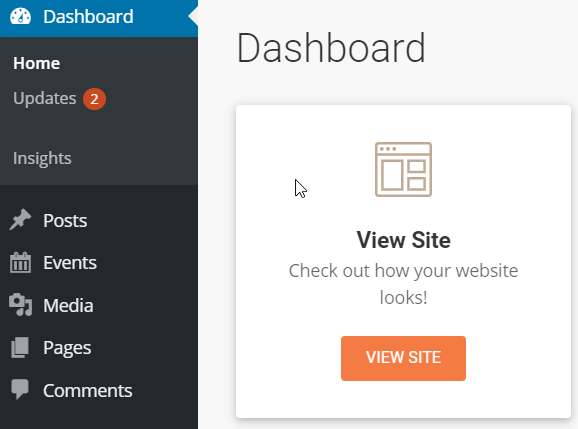 Then, add a title for your blog post. Remember, attractive titles will attract more clicks from your audience! Don't choose a title that you wouldn't be interested in clicking on yourself.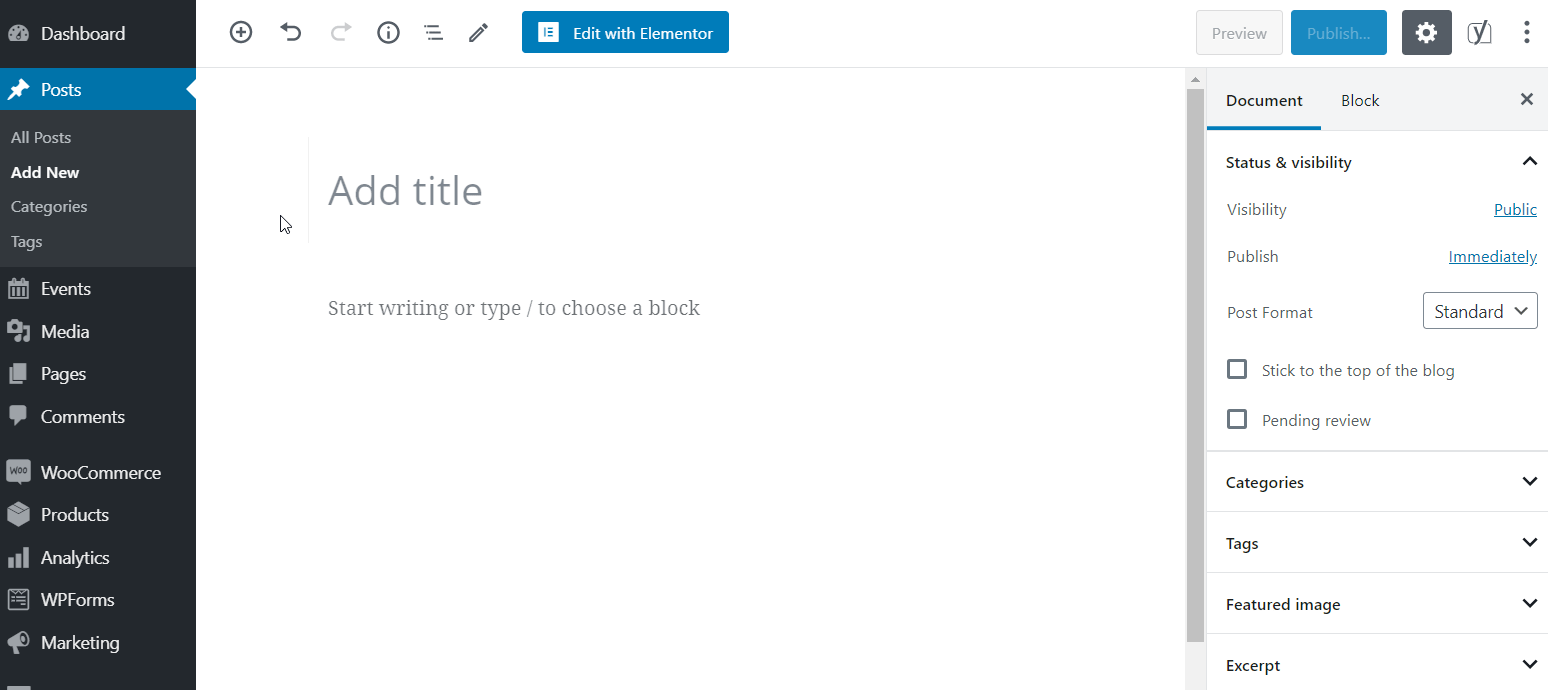 How to write articles your audience will love
1) Research a blog post topic
Your goal is to write blog posts that people will actually care enough to read, so it's your job to find out what topics people are interested in! List out a few topics you'd like to write about and then do a quick search on BuzzSumo to see it's a popular topic. We also have a comprehensive guide on keyword research that will help you identify keywords your audience regularly searches for.
2) Decide what "type" of post you want to write
Blog posts generally fall into a few key categories, such as "how-to-x", lists, "what-is-x", and many other examples. These are the most popular types of posts out there today and the titles tend to get more clicks. In fact, this article is a how-to post and it sure got your attention.
3) Make the introduction clear and captivating
The first part your audience will read after the title is the introduction. It is essential to present the topic and content of the article as clearly as possible so that your readers know that they will want to read the rest. Avoid overly wordy intros, and try to write them in a way that makes your reader want to keep reading!
Step 4. Increase Your Website Traffic
If you don't have website visitors, you can't make money from your blog!
Aside from writing content, it's important to promote the content you worked so hard to write. Here are some of the top ways to increase your website traffic:
Search engine optimization (SEO)
If you really want to increase blog traffic, then you'll need to learn about search engine optimization (SEO). It's the undeniably one of the most effective ways to bring traffic to your website.
SEO helps you create a more sustainable blog by enabling you to rank on search engines (ie. Google) for phrases that your audience is searching for. For example, if wrote an article on "How to Train Your Dogs," then ideally, you want to show up on the first page of Google when someone searches for "How to train dogs."
If you implement SEO properly on all of your posts, you can expect them to rank high on the search results page and bring you tons of organic traffic. If you choose to ignore SEO, your posts will be buried deep within the search results and nobody will ever find your posts.
Learn more about SEO in our Ultimate SEO Guide for Bloggers!
Join Facebook Groups
Did you know Facebook has groups for practically every niche?
Whether you're into health and fitness, cooking, travel, technology, or any other industry, there's a group out there for you. You just have to find it.
Joining a group that allows you to post your blog links will give you access to the members of that specific group for promotion. Some groups have hundreds, thousands, or even tens of thousands of members that you can target with your blog posts.
We like to promote using Facebook groups whenever we write new blog posts!
The only catch is that most groups have rules that you need to follow. With some Facebook groups, you'll be able to post daily while others may only allow you to post links to your articles certain days of the week.
Based on a little bit of analytics research Marie from Girl Knows Tech conducted using UTM parameters, she found that the Boost Your Blog Facebook group brings her the most traffic out of all of the groups she's involved in. See the image below.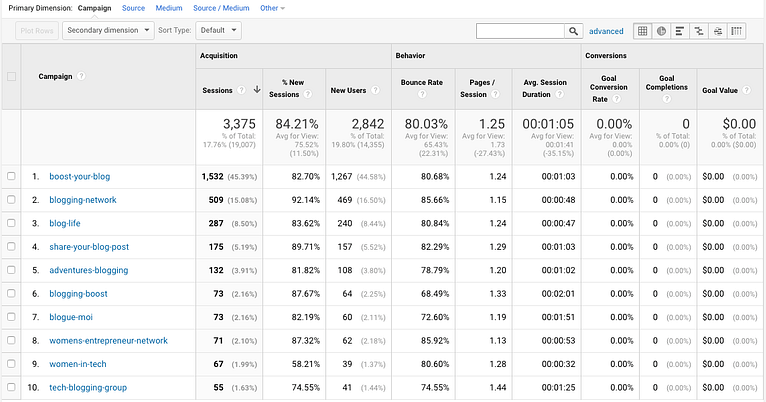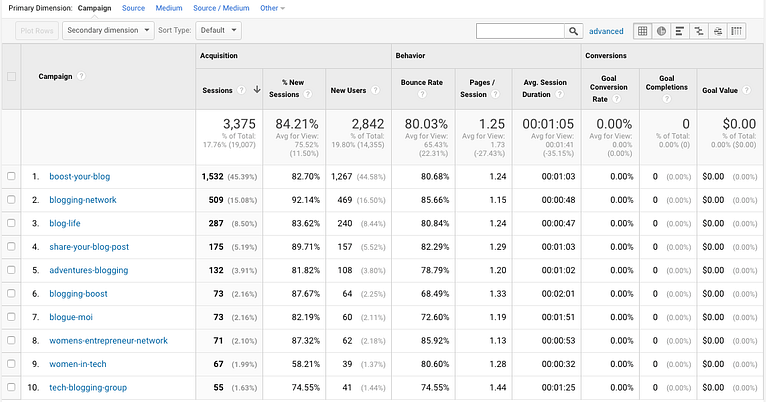 You can check out her article on How to Analyze Facebook Groups Visitors with Google Analytics to learn how to track Facebook group traffic for your blog too.
Finding Facebook groups to join is easy. Just hop onto Facebook and search for
We recommend that you join these Facebook groups to start:
One important thing to remember when you join Facebook groups is to be respectful to other members. That means you don't want to overly promote your blog posts because it's spammy and will drown out what other people are trying to share. You'll probably get kicked out groups for that.
Don't forget to comment and share other peoples posts too! This will help you build connections with other bloggers.
Post on Twitter
Twitter is an amazing social media platform that gives you easy access to engaging with others and joining existing conversations. Many professional bloggers build their networks by forming relationships with other Twitter users! A great opportunity for building your brand.
Here are some tips for Twitter:
Using Hashtags
If you've ever use Twitter or Instagram before, you're probably familiar with hashtags already. Hashtags help people find posts about specific topics more easily.
When it comes down to promoting your blog, you can publish a Tweet that includes a link to your blog post, and then add a couple of hashtags that are relevant to your post. As an example, if you wanted to promote a blog post about cats, you may want to use popular hashtags like #Cats, #Caturday or #CatsOfTwitter. Twitter recommends adding no more than two hashtags per post.
On the flip side, you can also search for hashtags on Twitter. This will allow you to quickly find people who are talking about a specific subject, and then reach out. Twitter is all about having meaningful conversations.
Participating in Twitter Chats
You can also participate in Twitter Chats to get to know other bloggers in your industry. Every day, there are designated chats that you can participate in by using the chat's hashtag. Gabriela Cardoza has a huge list of Twitter Chats and explains a little more about them in her post!
Be sure to participate in a few chats to get your name out there to maximize your blog promotion potential!
Tagging users that were mentioned in your posts
If you've written blog posts that include links to an external website, you can use that to your advantage on Twitter. Just tag the external websites in your tweet!
In return, the people/companies you tagged might retweet your tweet or share your blog posts. If they decide to do that, not only will you reach your own audience, but the people you tagged will help you reach their audiences as well. Even if they don't retweet or share your post, you'll still get recognized and possibly form a relationship or two down the road.
For additional ways you can promote your blog articles, check out our guide on How to Increase Website Traffic.
Step 5. Make money from your blog
It's time to talk money!
This section will teach you some of the most effective ways that professional bloggers make most of their income.
We understand that the idea of making money online is super exciting, specially since there an endless number of opportunities for you to make money from your blog!
But before you get started on any of the lessons below, you must first understand that your blog is a business, and so you must treat it like one. There are hundreds of ways you can make money using a blog, but you need to remember to focus on your readers. They are the ones who will eventually purchase your products or services, or the ones you recommend.
The truth is, there is no quick and easy way to make more money from your blog. If that were the case, everybody would be blogging. You've probably seen a lot of courses out there that claim they can help you earn money on your blog quickly, but most of the time they're actually lying to you.
Turning your blog into a solid income stream will take anywhere from a few months to perhaps even a couple years, depending on how much effort you put into developing your blog.
You'll go from barely making any blog income to potentially making a part-time or even full-time living. The only catch is it's going to take time and effort but it will be worth it.
Let's get started!
Affiliate Marketing
Affiliate marketing is among one of the highest sources of income for most successful bloggers. By partnering with other businesses or individuals, you become an affiliate for their products and services, and then you can promote them on your blog to earn a commission.
There are thousands of affiliate programs out there for every niche you can imagine. For example, Aspiring Bloggers is part of HostGator's affiliate program. Since we're strong advocates for HostGator and consider them to be the best web host for brand new bloggers, so we're more than happy to be affiliated with them.
Here's what you can earn with the HostGator affiliate program:
As you can see, the more sales you make per month with HostGator's affiliate program, the higher your commission will be. You can potentially earn $2,625+ a month just by making 21 or more affiliate sales. That's just for one affiliate program too. Imagine being an affiliate for multiple different products.
How do affiliate programs work?
When you join affiliate programs, you'll be provided with unique affiliate links. You can include these affiliate links throughout your blog—in your blog posts, on your sidebars, on your pages. When your readers click on your affiliate links and successfully complete purchases, you'll receive a commission from the company. The commission is usually percentage-based or fixed.
Just remember, it's great to make money through affiliate programs, but it's significantly more important to maintain credibility you have with your readers. Make sure you only promote products that are are helpful to your readers and that you would use yourself.
Here are some great affiliate programs you can start with:
Amazon Associates Program
You probably already know that Amazon is one of the largest online retailers in the world so we won't have to explain why Amazon's awesome!
What's even more awesome is that you can apply to become a part of Amazon's Affiliate Program and earn up to 10% for referral sale that you make. Considering there are more than 500 million products on their website, there's definitely not a shortage or products you can promote on your blog.
This affiliate program is great if you do product reviews for electronics, beauty products, clothing, games, and other categories! Here's a complete list of categories and commissions:
Sign up for Amazon's Affiliate Program.
Shareasale
If you want to become an affiliate for different products, ShareASale is a great way to connect you with different merchants. You can apply directly to affiliate programs from their website and if you get approved, you can manage all your affiliate partnerships right on that website.
When you make affiliate sales, the money gets deposited into your ShareASale account and then you can withdraw the money to your bank account.
You'll find tons of affiliate programs here for many awesome brands that you love! Some even have commission payouts of up to $500. Sign up to be a part of ShareASale and start promoting brands today.
Ads Networks
Ad networks are also a common way for bloggers to make money. The concept is simple to understand: you join an ad program like Google Adsense, you place ads around your blog, you get paid each time someone clicks on the ads because you're helping other businesses advertise. However, how much you earn from ads solely depends on how much traffic you're getting to your blog. The more traffic you have, the higher the ad income you'll make. Here's an example of an add showing up inside one an ad would look like.
Each click will give you anywhere between $0.05 – $4.00+ depending on the ad that's being clicked. (certain advertisers pay more because industry competition). Now, it may not sound like a lot of money at first, but when you start getting thousands or of visitors per day on your blog, the income you make from ads will become equivalent to a part-time or even full-time job.
Here are some popular ad networks:
Google Adsense (no traffic minimum)
Mediavine (minimum of 25,000 site sessions in the past 30 days required)
Adthrive (minimum of 100,000 page views in the past 30 days required)
As a new blogger, your only option is Google Adsense because minimum no traffic is required.
You can sign up for Google Adsense here. After you sign up, follow Google's guide to set Auto Ads. This will place ads on your blog automatically so you don't have to manage them yourself.
To integrate Google Adsense with your blog, install a plugin called Sitekit. More instructions can be found here.
On the Auto Ads setup screen, you'll see a live preview of how ads will look on your blog – in both Mobile and Desktop view.
Auto Ads gives you many different ad options to include on your website:
Anchor Ads – These ads are fixed at the top or bottom of your screen. Visitors of your site can easily click to close the ad.
In-page Ads – These ads will show up randomly inside of your blog posts. Readers will be able to see them as they scroll through your posts.
Vignette Ads – These ads show up in the transition screens when your readers jump from one page to another on your blog.
Some tips for implementing ads
Don't overdo it! It's okay to have a few ads here and there, but you don't want to totally bombard your blog with ads because it will result in a poor user experience for your readers
If you're only getting 50 visits a day, you're going to be making pennies from Google Adsense. Before you implement ads, spend some more time promoting your blog to boost your traffic
Online Services
Online services are another great way to make money blogging. If you've already established a good reputation with your audience and are able to provide valuable services, some of your visitors will have no problem paying for them.
The types of services you can offer will depend on your niche. Many fitness blogs offer fitness training programs, online coaching, and diet plans. Finance blogs offer consultations related to managing, saving, and investing money. If you check out our services page, you'll see that we offer web design, graphic design, consulting services, and SEO services.
It's up to you to decide what kind of services you want to sell on your blog. The key is to provide services that are both relevant and valuable to your audience. If you meet those two criteria, you should have no problem selling the service on your blog.
When you're ready to post your available services on your blog, it's easy to setup a shop on your site! WooCommerce is the most common eCommerce plugin for WordPress. Here's a video you can watch to get started:
Once your WooCommerce store is set up, you'll be able to create products and list them on your website. WooCommerce has a fantastic onboarding portal to show you everything you need know about populating your store with products and services, managing payments, and other neat stuff.
You'll be selling your own services in no time!
Digital Product Sales
Just like services, digital products are also something you can sell and earn a profit from on your blog. You can sell products ranging from eBooks, to stock photography, to printables.
The great thing about selling products on your blog is that your blog is the perfect compliment to your products! You can write product reviews to talk about how great your products are and convince your readers to buy.
This is what Sarah Titus does.
Sarah is the QUEEN when it comes to selling digital products. She created a digital product store in 2017 and now generates hundreds of thousands every single month by selling printables! You heard that right… hundreds of thousands per month. In her income reports, she reports earning $516,103 in January 2020.
She even inspired us to create our own digital products like Pinterest Graphic Templates and Daily Planners:
They're doing well, but not getting nearly many sales as Sarah does!
Sarah chose to use Shopify as her eCommerce platform but you can use other platforms like Etsy, or WooCommerce (which you learned about in the previous lesson.)
Start your online shop:
After you sign up, you can add a link to your shop to your blog menus.
As more people are relying on the internet for information, Online Courses have become very popular among professional bloggers. In fact, you're taking an online course right now—The Ultimate Blogging Course.
Online courses are a great source of passive income. After a few weeks of writing course content, you can create courses that will sell for years and years to come! All you would need to do is update course content if it becomes outdated and spend some time promoting them.
One blogger who does really well at selling online courses is Carly from Mommyonpurpose.com. She's a blogger who shares her experiences of being a mother + teaches moms how to work from home. Over the past several years, Carly has written over half a dozen courses which is now earning her a full-time income from blogging.
If you're interested in creating your own online course, we highly recommend Teachable! We're using Teachable for this course. They make it super easy for you to create and publish your own online courses.
Conclusion
Now that you've started your website and learned how to blog, you're well on your way to become a successful blogger!
One final thought we want to leave you with is that blogging isn't easy.
Every successful blogger today has worked really hard to get to where they are. Most importantly, they didn't give up when it seemed to difficult.
Now that you're done this course, it's all up to you and I wish you all the best with your blogging journey.
For more blogging tips, visit our Resource Hub.